Fisher Chess Clubs wins the Sri Lanka Inter Club International Rating Chess Championships 2011
The Fisher Chess Club won the Sri Lanka Inter Club Super League Chess Championships convincingly scoring total of 11 match points out of possible 12. They had an excellent performance with 23.5 game points, 3.5 more game points than the 2nd place team. The Fisher Chess Club, which was led by Mr. RS Kalugampitiya was consisted of Mr.WCC Perera (National Chess Champion 2011), WSVK Koggala, Rasheen De Silva, TSS Pieris, Lahiru Hapuarachchi and Akhila Kavinda. This is the 2nd consecutive year and 4th time that the Fisher Chess Club won this most prestigious and only international rating team Chess Event in Sri Lanka.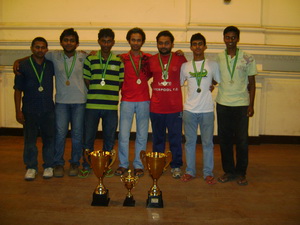 The Nf3 Chess Club consisted of Sameera Gunasinghe, Shamine De Moraes, Oshan Saranga, Damith Karunaratna, Chithika Madumadha, Gihan K De Silva placed 2nd with 8 match points with 20 Game points. The Paul Morphy Chess Club with Naditha Amarakoon, Romesh Weerawardena, Dulan Edirisinghe, PMAB Athukorala, PMRL Bandara, RMCM Rajapakse and PMDI Bandara placed 3rd with 6 match points and 18 game points.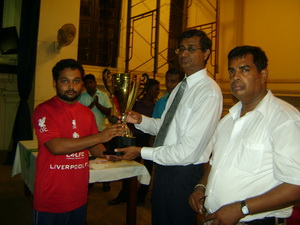 The tournament was played as Seven round, round robin event with the participation of seven teams. Navy became 4th, Wayamba Chess Club 5th, Passed Pawn Chess Club sixth and Royal College the only school participated became seventh in the event.
Board prizesL; 1. WLC Chandraratne (Wayamba CC), 2. Osheen De Silva (SL Navy) 3. Gihan Kanchana De Silva (Nf3 Chess Club) 4. Oshadi Kottahachchy (Royal College CC) 5. RMCM Rajapakse (Paul Morphy CC) 6. Luxman Wijesuriya (Passed Pawn CC), 7. Lahiru Hapuarachchi (Fisher CC)
Blue and Gold Chess Club consisted of Akhila Fernando, Nishendra Heart, Jayasanka Perera, Asoka De Silva, Ruchira Dissanayake and Yasith Hirimburegama won the Inter Club B Division tournament with 8 match points and 21 Game points. Reborn Chess Club with KWCU Silva, PEUM De Silva, W Sanura Ranmith, Minura Sandamith, WGC Mendis, C Lamahewa and Wishwa Kodikara scored 6 match points with 118 Game points to take the 2nd spot. Black and Gold Chess Club consisted of Vanusha Adihetty, Jithendra Rajakaruna, Chammi Kumarapathirage, Kanishka Premathilake, Vinod Kothalawala, Indika Anuruddha and Shirantha Fernando scored 6 match points and 17.5 Game points to take the 3rd place. A total of 7 teams selected from 4 qualifying tournaments from Colombo, Kandy, Kurunegala and Galle participated in this 5 round Swiss System event. The 1st two teams, the Blue and Gold CC and the Reborn CC will get the place to play in the Super League Inter Club Chess Championships next year.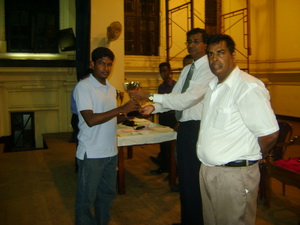 Boartd Prizes: 1. Akhila Fernando (Blue & Gold CC) & Sisira Kumara (Tarrasch CC) 2. KWCU Silva (Reborn Chess Club) 3. HM Karunanayake (e4 CC), 4. WATS Gunasinghe & Ruchira Dissanayake, 5.BVRMP Jayaratne (Kegalu CC) & WGC Mendi (Reborn CC) 6. Indika Anuruddha(Magnus Carlson) & Vishwa Kodikara(Reborn CC ) 7.Minura Sandamith (Reborn CC)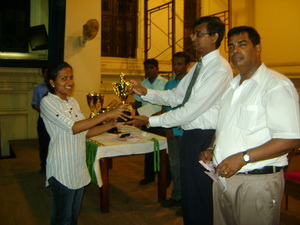 Nf3 Girls Chess Club with UGY Methmali, Piyumi Maheshiks, Dilini Umesha, JPSS Jayaratne, Tumi Yashora and RUW Gunawardena scored total 10 match points out of possible 10 with 23 game points to win the Sri Lanka Women's Inter Club Chess Championship 2011 convincingly. Magnus Carlson Chess Club consisted of Devni Sathma Perera, Monisha Gunratne, Nelumika Methmani, Surandi Deerasinghe, Thilini Nisansala Rupasinghe, Chathurya Gunasekera, and Nisakya Bandara became 1st runner up with a total of 8 match points and 20.5 Game points. The Gampaha Chess Club with KG Athuraiyawickrama, Gayathri Herath, Isanka Premathilake, AC Dissanayake, JH Balapitiya, HT Nadeeshani and R Fernando became 3rd with 6 match points and 20 Game points.

Board Prizes; 1. & UGY Methmali (Nf3 CC) 2. SI Karunarathne(Kegalu BMV) 3.Manisha Gunaratne(Magnus Carlson CC) & BGD Umesha(Nf3 CC) 4. Nelunika Methmani (Magnus Carlson CC) 5.JPSS Jayaratne(Nf3 CC) 6. Gayathri Herath (Gampaha CC) 7. Isanka Premathilake (Gampaha CC)
Back to Home page