Fischer chess Club Wins the Super League Chess Championship 2014
<![if !vml]>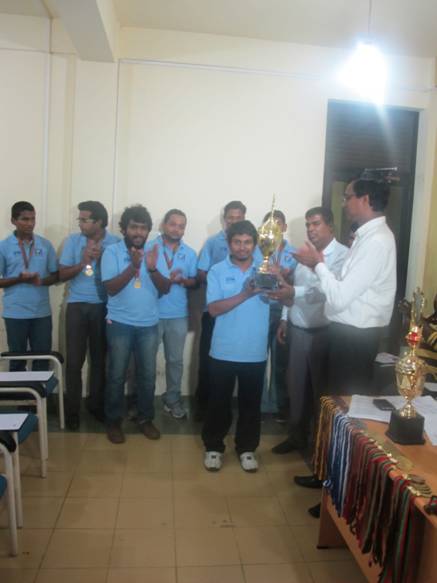 <![endif]>
The Fischer Chess Club won the Sri Lanka Inter Club Super League Chess Championship convincingly at the National Institute of Sports science. Fisher CC consists of Udith Jayasundara, Kashyapa Kulasekara, Romesh Weerawardena (IM), Laksith Randil, HNB Marasinghe, Akhila Kavinda, HLM Hapuarachchi, the captain and Rajeendra Kalugampitiya as the main authority of the Club scored 13 match points to claim the outright title for their 2nd consecutive Super League title.
The Inter Club Chess Championships 2014 was conducted by the Chess Federation of Sri Lanka in 3 categories as Inter Club B Division, Women's Inter Club and the Inter Club Super League Championships. The Super league Championship is played among top 8 Chess Clubs in the Country where the top 2 teams of Inter Club B gets the replacement the last 2 teams of the Super league event of this year for Super League next year. Each team is allowed to play 2 foreign players for the team and only Sri Lanka Navy and Maroons Chess Club had one Indian player each but Fischer CC could managed the championship.
The Fischer Chess Club beat Passed Pawn CC 4-2, Sri Lanka Navy 3 ½ - 2 ½ , Paul Morphy CC 3 ½ - 2 ½, Blue and Gold CC 3 ½ - 2 ½, TCA CC 4-2, Nf3 CC 5 - 1 and drew with Maroons CC 3 -3. Sri Lanka navy had to satisfy with the 2nd place with 12 match points and Maroons CC with the young blood managed to place 3rd with 11 match points. The Sri Lanka Navy team consists of Yogesh Gautham (India,), Isuru Alahakoon (National Champion), Chandana Wijekoon, Chamil Priyankara, TSS Pieris (FM), WA Lasitha Subash, Osheen De Silva and RRCL Jayathilske while the Meroons team consisted of Akash Kamparia (India), Lahiru and Shanaka Munasinghe, Mojith Gunaratne, TK Uyanhewage, KDT Madushan, Dinul Doluweera and Chirasana Lamahewa. The Passed Pawns CC and TCA Chess Club will have to move for B division next year and 1st two players from Inter Club B Division, Reborn CC and Green Castle Chess Club will replace them in the Super League next year.
64 Squares CC wins the Sri Lanka Women's Inter Club Chess Championships
<![if !vml]>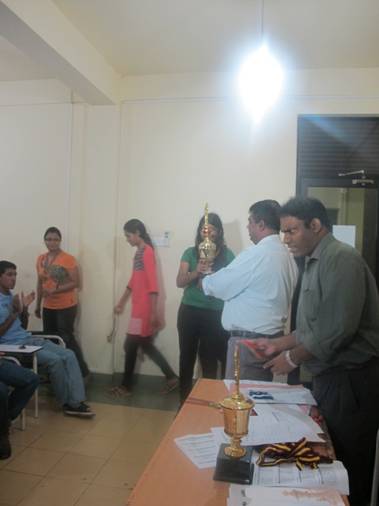 <![endif]>
The 64 squares CC won the Women's Inter Club title with a hard fought attempt. The team comprised of Sayumi Zainab, Thinithi ranasinghe, Methmani Nelunika, Navodya selvaratnam, Irindu Basnayake, Dinushki Premanath and Yasasirini Thuduwage scored a total of 7 match points while Blitz Chess Club A consist of BTAY Senarath, Tharushi Niklesha, Dasuni Mendis, Nethmi Gamage, Pasindi Wijesuriya, Panchali Perera, Anuki Pasquel scored 5 match points to win the 2nd place. Though the Black and white Chess Club consists of Hashini Perera, Kavindi Senarath, PARR Nonis, Manisha Suchini Gunaratne, Roschell Askey, Sashiprabha Gimhani, Yasasmi Gamage and Hasara Jayasuriya also scored 5 match points they had to satisfy with 3rd place on the tie breaker. There was 4 qualifying events in Colombo, Kandy, Galle and Kurunegala and only the selected teams from these areas fought in this final five round, Round Robin event.
<![if !vml]>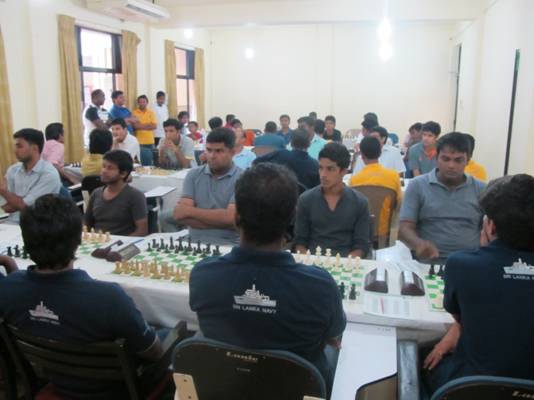 <![endif]>
Reborn Chess Club Wins Inter Club B Chess Championship 2014
The Reborn Chess Club from Ambalangoda emerged Champion at the Inter Club B Division finals which was a five round Swiss System team event. Reborn, consists of Nilanga De Silva, Kasun Wimalasuriya, PK Ranasinghe, Sasith Nipun Piyumantha, Thisen Thiyasara, VK Kodikara, PM Ranasinghe and WS Ranmith scored 8 match points out of possible ten to make the success. Close contender, Green Castle CC with KP Sisira Kumara, KPRN Samaranayake, Vinod Kothalawala, HM Farshan, Iraja Abhimanyu, WATS Gunasinghe and HBGT Jayasoma scored 7 match points to achieve the 2nd place. Both teams qualified for the Super League next year. Peradeniya University including RMCM Rajapakse, HMSS Hippola, HRSP Premaratne, AS Galagamaarachchi, RTPS Premachandra, EMAA Ekanayake, Elath Mathanga De Silva and EMSD Jayasoriya was third with same points but less in the tie breaker.
The Awards Ceremony was held under the patronage of Mr. Upali Gunasekara, the President of the Chess Federation of Sri Lanka.