Arbiters' Seminar – Nuwara Eliya
Arbiters' Training program organized by the Arbiters' Commission of the Chess Federation of Sri Lanka was held on 05th November 2017 at Sampath Hotel, beautiful up country, Nuwara Eliya. Program was mainly focused to enhance the knowledge of upcoming arbiters, 34 young arbiters were participated.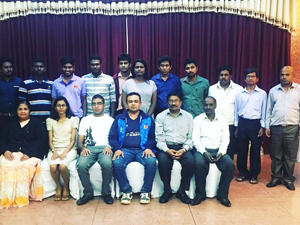 Seminar was conducted by the three International Arbiters of FIDE. IA Werochana Perera, IA Buddhi Panagoda and IA Malith Akalanka. Program was covered following topics. It was held in discussion manner with sharing the experiences of both the resource persons and the
1. Laws of Chess
2. General Tournament Regulations
3. The role of the Arbiters and their duties
Participants who successfully completed the Arbiters' Seminar obtained the DA norm which is a compulsory requirement to obtain the District Arbiter title which is awarded by the CFSL. Participant list as below.
We wish you all the best for their future endeavors as an arbiters.
S No Name
1 K M S M Gunathilake
2 M G B S Rathnayake
3 Dammika Liyanage
4 U G W Wijerathne
5 Gayara K C Mudalige
6 Rushini K Rajapaksha
7 R A Shehani Navodya
8 K K N L Perera
9 J M A D Jayasinghe
10 S Sano
11 P Saravana
12 V Derri Dilshan
13 P Kinobaralee
14 J Shaliba
15 Mathumitha Pathmanathan
16 P Shashikala
17 Sathiyamalar
18 Shanika
19 R M Neesha Dananjalee Bandara
20 R M Prabhashwara Bandara
21 S Yogeswaran
22 B Babykala
23 A Kanagasundaram
24 Paripoorani Shanmuganathan
25 S Christopher
26 Jayanga Kandearachchi
27 M Priyanthi Cooray
28 R P D W G Rajapaksha
29 W K Mewan Geenath
30 I Krishnakumar
31 Nalin Glaro
32 Charith Dilshan
33 W L D Gajaha Jayantha
34 K M S T Gunathilake
Report from IA Malith Akalanka